This is my FAVORITE time of year for baking. It's starting to get colder outside and baking just makes everything cozier. One of my favorite foods is zucchini bread. Don't worry, you can't even taste the zucchini. That was why it took me awhile to try it but I'm SO glad I did! I found this recipe on Pinterest of course! I did slightly alter it though so I thought I would share the recipe with you guys today. If you make this then make sure you
tweet me
pictures! Also let me know any recipes that you want to see!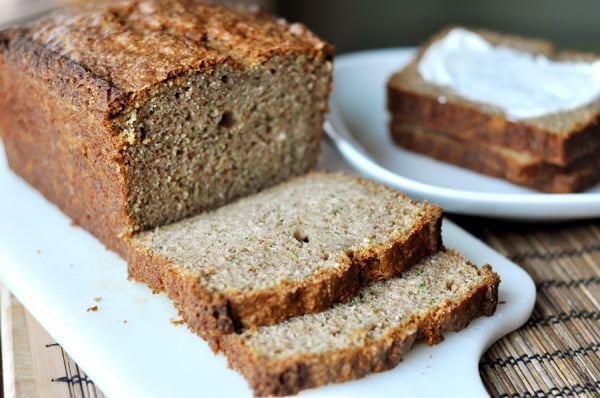 Ingredients:
1 pound zucchini (Make sure it is finely shredded and placed in a towel to remove excess moisture. You'll end up with about 1 to 1 1/2 cups)
2 cups flour
1 teaspoon baking powder
1 teaspoon baking soda
1 teaspoon salt
1 teaspoon ground cinnamon
1 teaspoon allspice
1 1/2 cups granulated sugar
2 large eggs
1/4 cup plain yogurt (not fat-free)
1 tablespoon fresh lemon juice or sour cream
6 tablespoons butter, melted
Directions:
1. Preheat the oven to 375 degrees. Generously coat a 9-inch by 5-inch loaf pan with cooking spray

2. Chop the ends off the zucchini (just 1/4-inch off each end) and finely shred the zucchini, peel and all. Place the shredded zucchini in a clean kitchen towel, wrap the towel, and wring the ends (like a an old-fashioned candy wrapper) to squeeze out all the excess water. You should have about 1 to 1 1/2 cups of dry zucchini. Set the zucchini aside.

3. In a large bowl, whisk together the flour, baking soda, baking powder, cinnamon, allspice, and salt.
4. In a smaller bowl, whisk the sugar, yogurt, eggs, lemon juice or sour cream, and butter until combined.
5. Gently fold the yogurt mixture and zucchini into the flour mixture, using a rubber spatula to fold the ingredients together until just combined. Transfer the batter to the prepared pan.

6. Bake until golden brown for about 45-55 minutes. Cool for 10 minutes then turn out into wire rack to cool for at least 1 hour. Store well-covered for up to three days.
xo,
Jerica